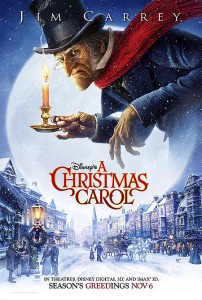 If you simply cannot wait until November and must have your fix of Christmas festivity in June, then keep reading, because next week, on June 16th, Disney is rolling, literally, into Ogden with its "A Christmas Carol" train tour. Yessirree, the Robert Zemeckis-directed "multi-sensory event" hits theaters on November 6, 2009, but someone at Disney and Hewlett Packard thought it would be the shiz niz to chug on down the tracks, stopping in sixteen cities to promote the Jim Carrey-as-Ebenezer-Scrooge surefire blockbuster.  Here's the offical scoop:
"Sponsored by Hewlett Packard, the Train Tour will travel more than 16,000 miles and pass through 36 states.  Amidst a winter wonderland with holiday décor and Christmas carolers, visitors will see footage from "Disney's A Christmas Carol" inside a 48-foot-wide, 2-story, inflatable 3-D theatre which will be erected in each city.  Visitors can also check out the cutting-edge technology behind the film, as well as artifacts from the Charles Dickens Museum and interactive games.  Radio Disney will invite kids to enter for a chance to become a Movie Surfer representing their hometown. Each Hometown Movie Surfer will get a chance to appear on Disney Channel by filming their very own Movie Surfer's segment! The whole experience is free.  The train tour is traveling cross-country with stops in 40 cities, culminating in November at New York City's Grand Central Terminal. "
If you're interested in seeing this in Ogden, head on down to 2501 Wall Avenue on June 16th anytime between 9AM and 7PM. Again, the event is free. If you go, send us some pictures and we'll post them on the site. Just make sure you are clothed. Remember, this is the "A Christmas Carol" train tour, not the "Beowulf" train tour.