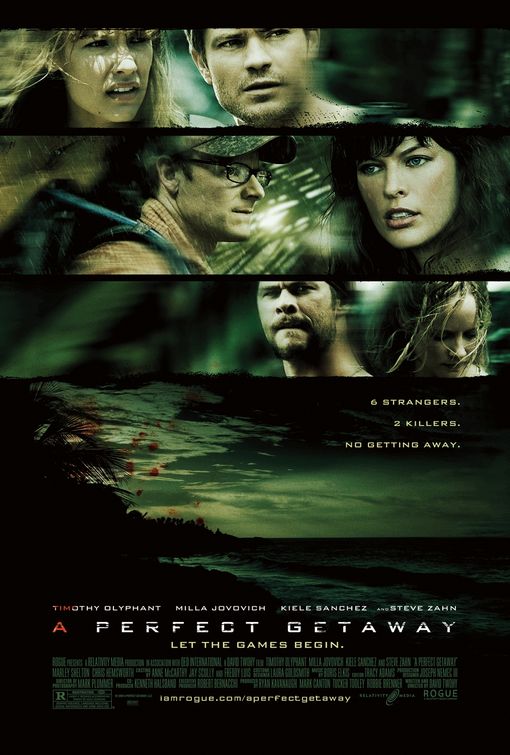 Each summer, studios drop a late-season, B-grade thriller into theaters in hopes of seeing it make a run at a dark horse weekend. 2005: Into the Blue and Red Eye. Last year: Death Race and Mirrors. Two of those four qualify for a the Showcase of Shame and both, incidentally, were not released in 2008. But so much for old memories. It's summer 2009 and this year we've got A Perfect Getaway.
Written and directed by the very capable craftsman and genre ingenue David Twohy (The Arrival, Below,Pitch Black) A Perfect Getaway looked like dumb fun, but sneakily produces more than it leads on– a convention bending twister that's smart, B-grade fun.
Newlywed life is goooood for screenwriter Cliff (Steve Zahn) and his bride Cydney (Milla Jovovich), the loud, laughing and cuddling newlywed type who leave the bedroom to one-up all other married couples before them with obnoxious displays of "Look at us! We're so, so happy!" All caught up in love, the couple pay no attention to the local newspaper's B-movie headline: "Newly Wed Couple Massacred in Oahu". Looks like those "gays" aren't the only ones out to sabotage "traditional marriage".


Cliff and Cydney have plans to giggle and grab-ass their way across the obscenely beautiful* Hawaiian Island of Kauai with a honeymoon hike to the kind of remote beach old floppy nudists call home. Of course, plot dictates hiking could never be that simple.
As the newlyweds flirt along Kauai's red-dirt trails, they encounter and befriend a skinny-dipping Gina (Keile Sanchez) and guy's guy Nick (Timothy Olyphant). The duplicitous and quirky Nick has done it all. He's an ex-spec-ops soldier back from Iraq, a survivalist and a romeo. He's also familiar with Hollywood screenwriting and tries to ingratiate himself with Cliff's Hollywood in by hinting at a screenplay he'd do if he were a murderer in Hawaii. The two roll through the film with cat and mouse conversation, their suspicious and developing relationship allowing the movie to knowingly wink at itself and its unfolding intentions.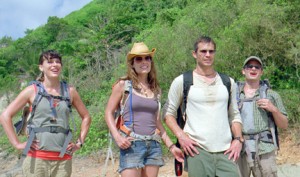 As characters fade in and out of the journey, all paths tensely cross along the trail throughout a compact 90 minute run time, setting up its central tension: is everyone who they claim, or will the "Newlywed Killer", or its inspired paranoia, shanghai a vacation in paradise. If viewers are willingly on board–and thanks to Twohy's lean script, they should be– A Perfect Getaway is an entertaining ride that's always inching toward the inevitable third act reveal, which giddily comes amidst all its devious fabrication. The less said, the better.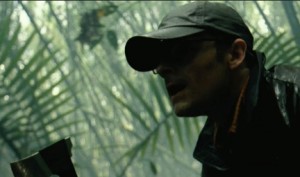 A Perfect Getaway never aspires to be more than it is. The movie knows it's a B-grade thriller with a central premise calculated to lead you down a variety of second-guessing paths until goosing you with a tense action finale. Writer/Director David Twohy– unjustly condemned to director jail after the fun and better on repeat viewings Chronicles of Riddick— continues to demonstrate a vice-like grip on solid scripting and genre "un"convention. While his stretches at fresh dialogue are often hit and miss, the way he directs an unpretentious ride like A Perfect Getaway reveals a guy who's consistently dependable for genre fun.
*I'm lying. Don't visit Kauai– it's a dump. Thank you.