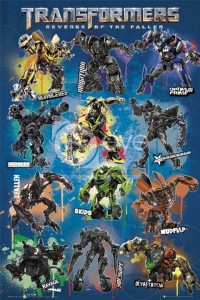 If you're not up to speed on all your Transformers robots, that's ok. Michael Bay has been real elusive in letting slip who's in and who's out for his upcoming Transformers: Revenge of The Fallen. There's been leaks galore and a trailer to boot, but how can you really know?
Well, you can get a better idea thanks to the GB eye LTC. poster company, who are selling Transformers for a bedroom wall near you. For your viewing pleasure, we've included the poster displaying a list of all the prime-time players. Hardcore toy-o-files will notice some characters appearing in the movie are missing, but you get what you get, so stop your complaining and eat your vegetables, Mister!
If you'd like to see more transforming robots and the character posters powerful enough to contain them, click here.