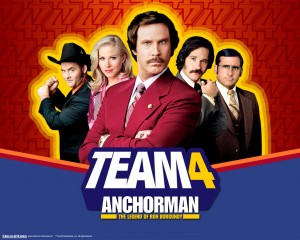 Enduring comedy classics are hard to come by- there's a lot of attempts, but even more fail. Anchorman is not one of those unfortunate few. Solid in it's outlandish ridiculousness and eternal in its sublime quotability, Anchorman: The Legend of Ron Burgundy is a gentle gift of wonder and delight.
There's been rumor (isn't there always?) of Anchorman 2 for some time, but apparently, in a recent press junket for Land of the Sleestacks Lost, Will Ferrell made mention of a meeting on the sequel next week. Whether that's a load of crap or not–as coming from Will Ferrell– is for you to decide.
Comedy sequels are super-treacherous and indespensable costars Brick Tamlan and Brian Fantana have become kind of a big deal, but I'm brushing my teeth, eating my vegetables and taking out the garbage extra good to ensure that 60% of the time, this movie happens every time.