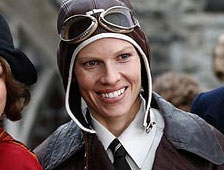 Over the last 10 years Hilary Swank's acting resume has been patterned with hits and misses. From her Oscar-winning turns in "Boys Don't Cry" and "Million Dollar Baby," to forgettable roles in "The Black Dahlia," "The Core" and "The Reaping," one thing is certain – even with the not-so-great films, she is still one of Hollywood's brightest acting talents. Her upcoming portrayal of Amelia Earhart in "Amelia" smells like victory to me. The movie opens on October 23, 2009 and is directed by Mira Nair ("The Namesake"). Along with Swank, the cast includes Richard Gere ("Nights in Roadanthe") and Ewan McGregor ("Angels & Demons").
Now, I know this is the first trailer and look at the movie, but I have a gut feeling this is going to be both a best picture and best actress nominee vehicle for Swank.  It's got romance, adventure and tragedy, and those are winning emotions on the road to the Academy Awards.
Mark my words: Come March, Swank walks away with her third acting Oscar.
Check out the trailer below and let me know what you think. Am I smoking crack, or am I a prophet?