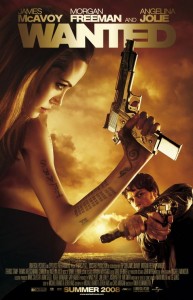 I guess the good thing about a Wanted sequel is that since 99% of the characters introduced in the film died, there's always that cool wax hot tub/bath thing to bring anyone they need back. Hallelujah! I'm not sure what I would have done without Angelina Jolie and her angry elbows.
According to a Russian news outlet (eh… sketchy), the sequel to Wanted is all set for filming right about the time fall kicks summer in the pants and preps everyone north of Arizona for six months of winter swirlies. When production does begin, director Timur Bekmambetov says Fox (Jolie) will be back. Hopefully they've already booked her– 26 kids takes some scheduling.
This isn't so much news as there wasn't a question as to whether there would be a Wanted sequel, but who, along with Mr. Tumnus, would be back. Sounds like we know of at least one.