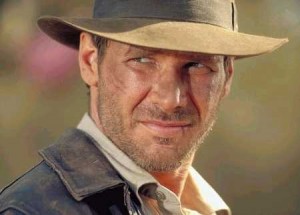 This is such a non-story I almost didn't publish this post, but hey, who doesn't love Indiana Jones, right? Even after George Lucas and Steven Spielberg took a big dump on the Indy franchise with Indiana Jones and The Kingdom of the Crystal Skull, I still get a little giddy when thinking of more Indy adventures. So, here is exactly what Harrison Ford said about the likelihood of Indiana Jones V:
The story for the new Indiana Jones is in the process of taking form. Steven Spielberg, George Lucas and myself are agreed on what the fifth adventure will concern, and George is actively at work. If the script is good, I'll be very happy to put the costume on again.
That doesn't mean jack squat. Another movie isn't technically "in the works" and the comment about George Lucas actively at work on a new screenplay sends shivers up my spine. That man single-handedly destroyed the Star Wars franchise and, as I said before, they nearly flushed the Dr. Jones down the toilet in May of 2008 with aliens, snakes-for-ropes and crazy tree swingin' monkeys.
If they want to make another Indiana Jones movie, fine. But here's a piece of advice. Start over. Do some prequel action and give them a more gritty feel. Reboots are the rage in Hollywood right now, so why not cash in?