Anthony Hopkins Dons the Neckmeat as Alfred Hitchcock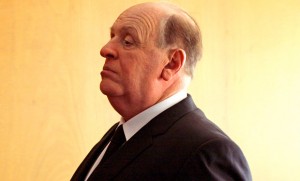 Nope, the picture you are seeing here is not an elderly George Lucas sans beard, pompadour hair and flannel shirt, rather this is our old pal Anthony Hopkins, he of Hannibal Lecter fame, in full Alfred Hitchcock get-up for his role in the new movie, aptly titled, Hitchcock. The Academy Award winner joins fellow Oscar-winner Helen Mirren, as well as Scarlett Johansson, Danny Huston, James D'Arcy, Jessica Biel, Michael Stuhlbarg and Toni Collette.  The film is based on the book Alfred Hitchcock and The Making of Psycho by Stephen Rebello. No word yet from Fox Searchlight on a release date.
In other casting news, Hopkins was recently tagged to play a villain in the 2013 release of Red 2, the sequel to the pleasantly surprising 2010 action/comedy Red, starring Bruce Willis, Helen Mirren and John Malkovich. Red 2 is directed by Dean Parisot (Galaxy Quest) and also welcomes Catherine Zeta-Jones to the cast of Retired and Extremely Dangerous former agents. Red 2 is scheduled tentatively for August 2013.