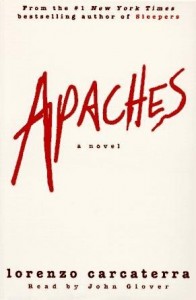 Lorenzo Carcaterra rose to notoriety in the late 1990s with his second work of non-fiction, Sleepers, about some Hell's Kitchen youths sent to Satan's prison for boys and the subsequent changes and justice they mete out against former inmates and guards. You may remember the 1996 movie version directed by Barry Levinson that starred Brad Pitt, Jason Patric, Dustin Hoffman, Minnie Driver, Robert De Niro, Billy Crudup and Kevin Bacon. I never saw it, but Sleepers was a definite page turner. Carcaterra is to New York as James Ellroy is to Los Angeles. His stories are gritty and the characters, most of whom are never black and white – always shades of gray, are usually primed for vengeance.
Apaches was Carcaterra's first foray into fiction and has been tossed around Hollywood for the last 11 years. The book revolves around some retired cops who take justice into their own hands and lay the smack down a big drug cartel, one that is in the habit of impregnating prostitutes and then using their infants as containers for smuggling drugs. Jerry Bruckheimer has hired screenwriters Sean O' Keefe and Will Staples to pen the screenplay. No director or release date has been assigned as of yet.
If you haven't had a chance to read Apaches or Sleepers, you can pick them up at Amazon.com below:
Apaches: A Novel of Suspense
and Sleepers
, $4.99 and $7.99 respectively.