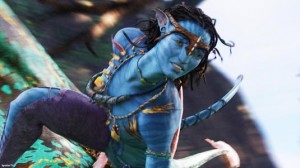 Box office totals won't be confirmed until Monday, but as of right now Avatar again crushed its competition, hauling in $48.5 million dollars over the weekend, moving James Cameron's sci-fi epic into seventh place on the all-time highest grossing list (domestic box office, not adjusted for inflation).  Sherlock Holmes and Alvin and the Chipmunks: The Squeakquel were a distant second and third with $16,610,000 and $16,300,000 respectively. Daybreakers and It's Complicated rounded out the top five with $15 and $11 million.
Now the question is – how far can Avatar climb? Even if it's weekend gross dropped by 50% next week, it still will leapfrog Star Wars: Episode I – The Phantom Menace, E.T. and Shrek 2 to become the fourth highest grossing domestic movie of all time. It should also pass Star Wars ($460,998,007) to take control of the third spot on the aforementioned list; however, from there Avatar's financial future becomes murky. The Dark Knight ($533,345,358), in my opinion, is well within reach, but I think Cameron's 1997 film, Titanic, will remain number one, as $600,788,188 million is quite the haul.
For our international friends, Avatar is now the second highest grossing worldwide release in history, second only to Titanic. To pass the 1997 behemoth, Avatar would need to pull in another $512 million. Only four words for that possibility: Not. Going. To. Happen.