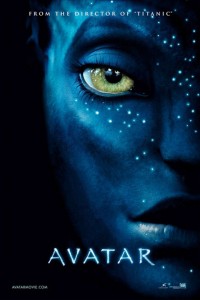 If you were of the 12 people in America who didn't see Avatar in theaters and didn't help fill James Cameron's wallet with $732 million, then you can pre-order your DVD or Blu-ray copy of Avatar today from Amazon.com. It was announced yesterday the all-time highest grossing domestic and worldwide movie will hit stores on April 22 – which, by no coincidence, is Earth Day.
However, if you want special features, pretty menus and all the bells and whistles, you'll probably want to wait for November. According to SlashFilm.com, this April 22 release is bare bones and a meatier multi-disc product will most likely hit stores in November, although probably not in 3D. I'm sure we'll hear more details about this and the re-release of Avatar when James Cameron speaks to the press on March 23. Word on the street is the re-release will be an extended cut.
I'm crossing my fingers we'll see an extended connect-the-hairy-ponytail-usb ports scene in the jellyfish Lite-Brite tree. I don't know about you, but after two viewings of the nearly three-hour movie, those 12-foot Na'vi chicks were lookin' kinda hot.
Click to order below: