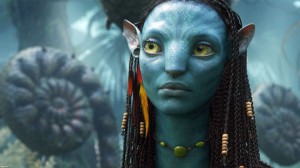 So three weeks ago on the KVNU Movie Show I stupidly claimed Avatar would be hard pressed to beat Titanic's longstanding box office record of $600,788,188 and wouldn't even come close to the iceberg-doomed ship's grip on the all-time worldwide box office of $1,842,879,955. Sure it was making some noise in December, but recent box office trends suggested it would drop by 50% or more in consecutive release weeks. I was confident in my opinion.
Color me corrected. As, Tyler notes below. Avatar wants me to suck it.
Avatar will break both records and break them quite handily, most likely in the next two weeks, if not sooner. Considering James Cameron's space odyssey will get nominated for – and possibly win – the best picture Oscar, would it be insane to suggest Avatar could come close to the $700 million mark domestically? More importantly, what is the driving thrust behind all the interest? Is this the work of more expensive tickets (3D and IMAX), or is this simply a magical movie?
Listen, I gave Avatar a B plus. I loved it. But did I think it would be the eventual all-time box office champ? Not in a million years.
Please, discuss – I'd like to know everyone's thoughts on the matter.