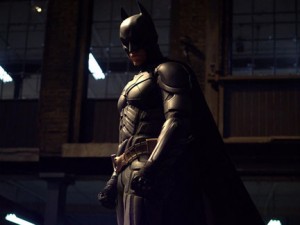 In the event you haven't heard, Chris Nolan must have Inception almost completely tied up: all of a sudden Batman 3 is scheduled for a July 2012 release date.
As is, that's a very quick turnaround schedule for a big film we haven't heard much of anything about for the last two years. Batman Begins to Dark Knight had the benefits of a three year production schedule– Batman 3 gets two. While a lot of the casting is already in place, there's still actor schedules  to be adjusted, script hammered out, etc. But hey- that's movie geek stuff.
In the mean time, the good news is that Batman 3 is finally on the table and hurtling toward its 2012 release date. That way, when the the world is exploding, sliding into the ocean and being perforated with comets and rhetorical "told you so's" from everyone we now think is crazy, at least you'll have your Batman 3 Bluray to cling to.