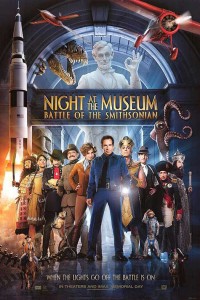 All my instincts tell me "Terminator Salvation" will utterly wallop "Night at the Museum: Battle of the Smithsonian" for Memorial Day box office bragging rights, but I'm beginning to have doubts.  It's a family holiday with start-of-the-season BBQs and trips to the cemetery to pay our respects to those gone before us. Judging by the box office receipts for oh, I don't know, the last 30 years, many families count a trip to the theater as a tradition. Considering, even though it's PG-13, "Terminator Salvation" isn't what you'd call a family film, perhaps NATM2 will be the box office champ. In fact, I wouldn't be surprised to see these two movies literally neck-in-neck financially when all is said and done.
One thing is certain: adding Amy Adams ("Doubt"), Jonah Hill ("Superbad"), Bill Hader ("Adventureland") and Hank Azaria ("Run Fatboy Run") to compliment Ben Stiller's shtick is definitely a plus. Frankly, the cast additions are probably the biggest reason I will catch this with my kids.
Check out the international trailer below for "Night at the Museum: Battle of the Smithsonian." It's got 30 percent more creamy nougat than its domestic previews. What do you think? Does this look too jam packed, or will this sequel be better than the original?