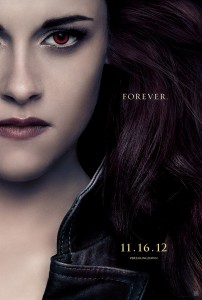 A new trailer for the second installment of Breaking Dawn hit the web this week and, because I had forgot the Twilight Saga even existed, it reminded me that The Twilight Saga: Breaking Dawn – Part 2 is five months away from premiering in multiplexes across the country and that means the cash train of teenage (and cougar) squeals and lust is about to come to a screeching halt.
Obviously there will be a DVD/Blu-ray release and the subsequent boxed set of goodies and extras, but what can we expect now from a franchise that clearly pays the bills for Summit Entertainment. A 3D Twilight release? Lord knows Jacob's abs and hairy wolf fur might cause fainting when displayed in the eye-popping magic of the third dimension! I can't imagine Kristen Stewart, Taylor Lautner or Robert Pattinson wanting anything more to do with the vampire/werewolf franchise, but seriously, what happens now? Prequels? Spin-offs? You tell me.
Until then, and until November 16, 2012, you can check out the newest trailer for The Twilight Saga: Breaking Dawn – Part 2 below and watch Bella go from demur human to Volturi-kicking bad ass! Yep, one swig of that sparkly vampire blood will put hair on your chest!
As a side note, once these movies are finished, someone needs to make a compilation of cheesiest Twilight Saga movie lines, because "Now we're the same temperature" is definitely in the top five. Typing that made my fingers hurt and eyes bleed. For real.