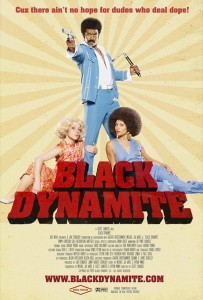 And I haven't even seen it.
Rolling out of this year's Sundance (where it received an official selection), and from the absolutely fantastic trailer alone, Black Dynamite looks to have nailed every cheap and unintentionally hilarious note of hilarity born from 70's era Blaxploitation films. Aimed squarely at urban youth, these films took big screen action scenarios usually reserved for white actors and plopped them in the crime-ridden ghetto while throwing in a heady mix of bravado, soul, and stick-it-to-the-maninism. Strung together on a very visible shoestring production budget, the genre delivered some iconic material while creating some memorable stars (Richard Roundtree in Shaft , Pam Grier in Foxy Brown), but also fueled accusations of perpetuating negative stereotypes.
40 Years later, Black Dynamite's got no time for that jive. He's got to get the dope off the streets and after more recent blaxploitation sendups I'm Gonna Get You Suckah/UnderCover Brother, this powder keg of black fury is primed to explode.
Directed by Scott Sanders, Black Dynamite is currently in limited release where, sadly, it will probably stay until it lands uncontested on my DVD shelf when it's released next year.
If, like me, you can't get enough, check out the official soundboard here.