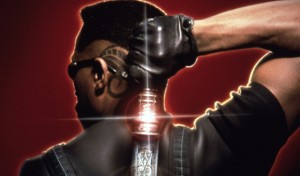 I might be the only person on the planet that actually enjoyed Blade: Trinity. But I blame that on my man-crush of Ryan Reynolds, my lust for Jessica Biel and my thorough enjoyment of Blade and Blade II. I have no problem with more Blade films hitting theaters, but I do have one request: No more Wesley Snipes. Yes, according to MTV, Snipes has a raging boner for more Blade, (you can read/watch his full comments here) but the highlights are as follows:
He has a thinly veiled disdain for Blade: Trinity director David S. Goyer.
He wants a larger, more multi-racial cast.
If a fourth film is made, it will reflect a maturity and better understanding of the genre.
All I have to say to that is, WTF? I think Wesley has an over-inflated sense of his worth.
Hopefully the folks over at New Line realize that the love of all things vampire is cresting right now. I think they have a small window of opportunity to go back to the drawing board and re-boot the Blade franchise, i.e. Batman Begins, The Dark Knight and The Incredible Hulk, and really inject some new life into a kick-ass comic book character. In order to do that, Snipes has to go.
What do you think? Want more Blade? Want to see a re-boot?