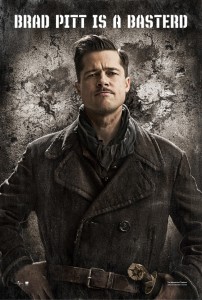 If you tuned into KVNU's "Andy at the Movies" segment yesterday, you got to hear Mr. Dan Vinton go all Anakin Skywalker on Quentin Tarantino's new late summer release, "Inglourious Basterds." Dan says it's a must miss, I wholeheartedly disagree. I think the movie looks fresh, original and darkly funny – all elements that have made Tarantino's previous work golden.
But I digress.
Really, all I wanted to show you were three new-ish posters I stumbled upon this morning on the web. The Brad Pitt one is spot-on and I'm sure Jennifer Aniston would agree. What say ye? Do you like the posters and is this a must-see or miss?
Click the poster to the left for a full-sized version, as well as the thumbnails below.