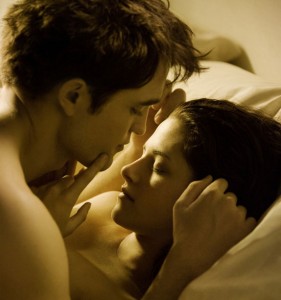 It's been a year since we've had to commune, by choice or force, with Edward (Robert Pattinson), Bella (Kristen Stewart), Jacob (Taylor Lautner) and the whole Forks, Washington crew, including the pasty-skinned, pissy Volturi creepies from Italy, whom we've seen briefly in the last two films. But hold on tight, Twihards, because The Twilight Saga: Breaking Dawn – Part 1 hits theaters on November 18, 2011 and the first preview hit the web earlier in the week.  You can watch it below, courtesy of Yahoo! movies and Andy at The Movies.com. I'd sure love to know what you think.
As for me, I don't have much to say. It looks like more of the same. I'm not familiar with the Breaking Dawn story, but I do know Summit Entertainment is splitting the tale in half and Breaking Dawn – Part 2 hits theaters in November of 2012. I also know that Edward and Bella get married, get freaky and spawn some kind of mutant child that Jacob imprints with his little brokenhearted werewolf paw. If there were any justice in the world, Stephanie Meyer's tale of vampire/lycan love would get an R rating, and considering what I saw in this trailer, it might come close. I don't know what kind of Herculean Kama Sutra ol' Jacob can pull off in the sack, but if Edward Sparklechest is turning the honeymoon headboard into splinters, well, then it's no wonder Bella picks the bloodsucker over the pound puppy.
Check out the trailer below and let your opinion be known! Enjoy!