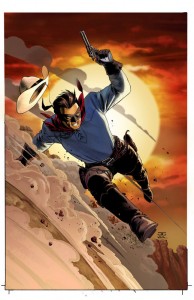 Update at end of story.
Feels like Jerry Bruckheimer's law-upholding, shiny bullet poppin', Silver-riding Lone Ranger project has been simmering for a while (it has… it really has!). The last bit of major news was Johnny "Everyone loves him NOW" Depp's attachment as Native-American BFF Tonto– of course, that makes me wonder where Wes Studi was when the casting call went out.
Dear Wes… I miss you*.
So talk about curiosity piqued when the latest humdinger about the project just kind of dropped out of nowhere– The Lone Ranger has attracted a 100% legit director.  Since Bruckheimer is also producing the vid-game adaptation Prince of Persia, I'll totally assume and put two and eight together: filming for POP must have gone along like naked ladies and peanut butter: Mike Newell (the director of Prince of Persia) has been attached to call the shots. The Mike Newell of Harry Potter and the Goblet of Fire (hopefully Robert Patrick has found the time to give a hearty thanks), Donnie Brasco, Pushing Tin, Four Weddings and a Funeral and Love in the Time of Cholera. The guy's good.
Of course, this is Bruckheimer and he's used to delivering winners and top-shelf talent to films you might not expect to see on the receiving end. In this case, The Lone Ranger project just got a lot more interesting.
UPDATED: Must-read website Hollywood Elsewhere noted a "reliable" inside tip hinting that Disney wants Matthew McConaughey to star as an alternate to first-choice Christian Bale:
"…per studio desire, the leading candidate for The Lone Ranger is Matthew McConaughey. The initial choice was Christian Bale, but there's worry about his spearheading too many franchises so they're waiting to see how McG's Terminator film does. He's carrying a certain prick status at the moment due to his still reverberating rant."
*But not for long- Wes Studi's back in action in James Cameron's Avatar.