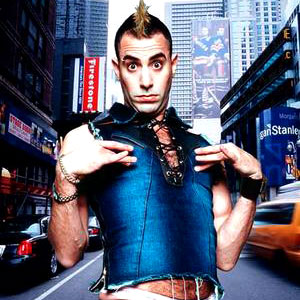 You'd have to be hibernating in a dank, drippy cave for the last three years to not know about the movie "Borat: Cultural Learnings of America for Make Benefit Glorious Nation of Kazakhstan" and it's hilarious star, Sacha Baron Cohen. Cohen is also famous for his characters Ali G and Brüno, the latter of which is coming to the big screen this summer (July 9, 2009) in what is sure to be another controversial and crude film. I can't wait!
For the uninitiated, Brüno is a homosexual Austrian television reporter who interviews real, unsuspecting people about fashion, entertainment, celebrities and homosexuality. Like Borat, the whole idea is to catch people in their raw form, oftentimes with their bigotry on full display.
If you want to check out more about the movie, you can head over to Brüno's MeinSpace page, or you can watch the redband (only for 17 or older) trailer below. Be advised, there is swearing and some brief nudity in the trailer. With that said, while watching the redband preview I promptly spit my Red Bull all over my computer monitor.