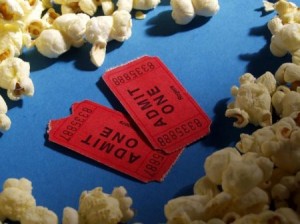 Utah State has a bye this weekend and all three local high schools have away games. What better weekend to head out to the local cinema, your DVD rental store or the Redbox and indulge in the hearty, butt-widening pastime of savoring some good old fashioned couch potato shenanigans.
In theaters:
The Hurt Locker (R, The Logan Art Cinema): Go see this immediately. Easily one of, if not the, best movies of 2009.
Inglourious Basterds (R, University Stadium 6): Best Tarantino movie ever. Like The Hurt Locker, easily one of, if not the, best movies of the year.
Whiteout (R, University Stadium 6): This wasn't screened for the press, but not even 4 percent on RottenTomatoes.com can keep me from enjoying the lovely Kate Beckinsale in a steamy shower.
9 (PG-13, Providence Stadium 8): See Dan's review here or my review here. Beautifully animated and hugely creative, but probably not for all audiences, especially little kids who may pee pee their bedsheets.
Extract (R, Logan Movies 5): Comedy from Office Space creator Mike Judge. A healthy 62 percent on RottenTomatoes.com and why am I not suprised? Two names: Jason Bateman and J.K. Simmons. Worst part about this movie? You'll have to watch it at the dump that is the Logan Movies 5. That should be renamed Cinema Hobo. Since when is "upgraded" stadium seating actually stumbling through the dark into your Craftmatic adjustable lawn chair? Blech.
On DVD:
Crank 2: High Voltage (R): The first one was fun, zippy and clever. This one? Crap.
State of Play (PG-13): Political thriller starring one of the world's best actors, Russell Crowe. You can read  my review of the film by clicking here.
Adventureland (R):  From the director of Superbad, this one is less raunchy and more heartfelt.
Duplicity (PG-13): Julia Roberts, Clive Owen and Michael Clayton director Tony Gilroy. What's not to love here?
And that's about it Cache Valley. If I missed something or you think I'm smoking crack, by all means, share your thoughts.