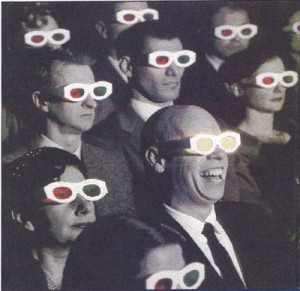 Perhaps you'll be cheering the Aggies to victory numero dos against the Louisiana Tech Bulldogs on Saturday afternoon at Romney Stadium. Or if an afternoon of college football isn't in the cards, then maybe you'll go hunting, or maybe you'll just buy some beer and sit home watching re-runs of Ace of Cakes all weekend. Either way, if you're like 99.6 percent of Cache Valley, you'll be hitting up one of the three  first-run theaters, or you'll be holding up a Redbox, looking for some one dollar DVDs to keep you from boredom and eating a whole bag of Doritos and a tub of KFC by yourself.
On the latter front, here's what AATM.com recommends this weekend:
1. Paranormal Activity (R, University Stadium 6): This mockumentary thriller about a twentysomething couple trying to figure out why a demon/ghost has infested their San Diego home is definitely worth the full-price ticket. It scared the bejesus out of me and I think it will do the same for you (see my review here). And if it doesn't, at least you'll be entertained watching other people mess their pants.
2. Where the Wild Things Are (PG, Providence Stadium 8 & University Stadium 6): Older, mature fans of the book will find Spike Jonze's adaptation of the Maurice Sendak's timeless tale heartwarming, thoughtful, artsy and enchanting, but this isn't a movie for the under 10 crowd. Not because it's scary or dark, but because it's over their heads. Easily one of the year's best movies (see my review here).
3. Zombieland (R, University Stadium 6): I'd call this a zom-com, sort of like an American version of Shaun of the Dead. It's funny, irreverant, offbeat and pretty gory. If you're looking to catch a flick that doesn't require a lot of thought or emotion, this is your pick.
4. Cloudy with a Chance of Meatballs (PG, Logan Movies 5):  It might be sacrilegious to say this, but I thought Cloudy with a Chance of Meatballs was more entertaining than Pixar's summer hit, Up. The voice talent is the real strength behind this movie, which is adapted from a children's book about a loser inventor who makes a machine that uses weather to make food.
5. Whip It (PG-13, Logan Movies 5): Lots of critics are calling Drew Barrymore's first turn as a director "Juno on roller-skates," in reference to the film's leading lady, Ellen Page, who was the heart and soul of 2007's hit movie about a pregnant Midwestern teenager. I can see the inevitable comparisons, but Whip It is a little more cliched and predictable than Juno. Still, it's funny, heartwarming and has a nice message.
If you're hitting up your local DVD rental store, or the local Redbox, this week saw Transformers: Revenge of the Fallen released, along with Michelle Pfeiffer in Cheri and Blood: The Last Vampire. I haven't seen the last two, so I can't comment, but TROTF is exactly the same as I remember it from theaters: funny, bloated, way too long, full of dumbness, but, all-in-all, not a horrible movie. I bought it on Blu-ray. Yes, I'm Michael Bay's beeotch.
Some other DVD selections recently released are The Proposal, Drag Me to Hell and Land of the Lost. Again, nothing spectacular, but all worthy picks and definitely worth the one dollar rental.