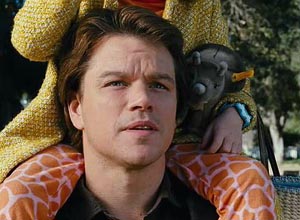 Cameron Crowe is the George Lucas of romance and dramedy.
The former and sometimes Rolling Stone magazine writer has made some memorable pop-culture 80s movies – Fast Times and Ridgemont High and Say Anything…, two really fine films – Jerry Maguire and Almost Famous, and then two forgettable movies that had great trailers, lots of potential, but didn't quite mesh (see Vanilla Sky and Elizabethtown). When I watch the trailer for Crowe's new movie, We Bought a Zoo, I can't help but remember his blunders and the heartwarming, tear-wiping trailers that preceded their flops.
We Bought a Zoo is based on a memoir about a guy and his family who use their life savings to buy a dilapidated zoo, complete with hundreds of exotic animals, and in the process of restoring the zoo to working order, come to discover life lessons that, according to Crowe's trailer, should make us laugh, cry, cheer and feel lots of love. Considering it has Matt Damon (Contagion), Scarlett Johansson (Iron Man 2), Elle Fanning (Super 8) and Thomas Haden Church (Easy A), it definitely has the potential to be a holiday success, at least critically. I, for one, am crossing my fingers.
Check out the trailer below and let me know what you think? We Bought a Zoo comes to theaters on December 23, 2011.