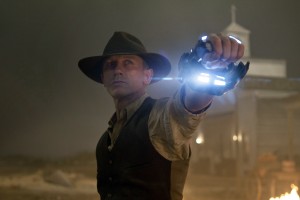 Summer 2011 is going to be quite beefy, but between all the superheroes and the Autobots and Decepticons, the movie I'm most excited to see is Cowboys and Aliens, which hits theaters on July 29. How could this not be nothing but pure win? It stars Harrison Ford (Morning Glory), Daniel Craig (Quantum of Solace), Olivia Wilde (Tron: Legacy), Sam Rockwell (Conviction), Paul Dano (Knight and Day) and Adam Beach (Flags of Our Fathers), plus it's directed by John Favreau, who, I'd argue, has never made a bad movie. Ever. His resume boasts both Iron Man movies, Elf and Zathura.
Cowboys and Aliens is based off a 2006 graphic novel of the same name (written by Scott Mitchell Rosenberg) and the story is set in Arizona in 1873 and follows a loner named, aptly, Jake Lonergan (Craig). He wakes up in the desert with a strange shackle around his wrist and no memory. His prunehole might also hurt, but we'll have to wait for the movie to know that for sure. You can never be safe with aliens. At any rate, he heads to the town of Absolution where he soon learns his past and quickly discovers his future, as he must team with Colonel Dolerhyde (Ford) and other people from his past to defeat some pretty nasty alien invaders.
Check out the trailer below and let me know your thoughts. I can tell you one I have right now: I am in love with Olivia Wilde.