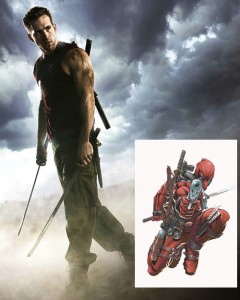 If you saw X-men Origins: Wolverine, you'll remember fan-favorite character Deadpool as played by Ryan Reynolds, the wise-crackin' mercenary who leaves his victims all dead and stuff, but with a  smile on their faces. If you stuck around* through the end-credits , you'd know there might be some surprises in store for Deadpool… and Variety has reported that indeed there are.
Apparently, one of the reasons Ryan Reynolds was given the role was to spin it off into its own franchise and now word is that the project's out and looking for writers who can whip up a slapsticky, talk-to-camera/audience adventure. Sounds awful. Of course, Ryan Reynolds is a cool dude and as good as anyone with the smug 'n' snarky one-liner delivery– in fact, he's made a career out of it– so there may be hope.
Regardless, these things take time, so who knows if Deadpool will even happen. X-Men Origins: Magneto, anyone?
In the mean time, Andy has just put back up his Tiger Beat poster of Ryan Reynolds here at AATM headquarters.
*Pet Peeve: Folks who say they love movies but leave before the credits finish rolling. I submit two things- if you leave before the credits finish rolling, you are A) Not a movie fan– you're an entertainment fan and B) usually missing a lot of Easter Eggs– special surprises inserted into the end credits for the film faithful. Either way, you loooooose.