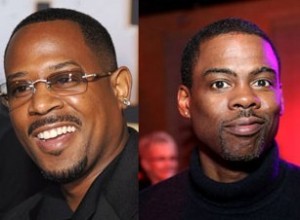 I'd be interested to see what Frank Oz (Dirty Rotten Scoundrels, What About Bob?) thinks about his 2007 British comedy, Death at a Funeral, being remade into a Tyler Perry-ized, Chris Rock and Martin Lawrence-starring comedy due in theaters on April 16, 2010. I can't imagine he is super-hyped; I know I wasn't when I saw the announcement last March. However, I will say this: After watching the trailer, even with my loathing of Lawrence, this remake could be pretty funny, and, I might add, for the exact same reason Oz's version was hilarious – the cast.
Along with Rock and Lawrence, we have Zoe Saldana (Avatar, Star Trek), Luke Wilson (those new AT&T wireless commercials – man is his face swollen or what?), James Marsden (The Box), Danny Glover (2012), Tracy Morgan (30 Rock) and Peter Dinklage (who also appeared in the same role in Oz's version). Personally, I'm looking forward to seeing Marsden take on the drug-induced exhibitionist Alan Tudyk (Serenity) played with such hilarity in the 2007 version, and I'm also anticipating Glover's take on the crotchety old uncle (who at one point, in Oz's DOF, has a diarrhea attack and craps on the hand of his helper).
Common sense says this will suck, but because I like the 2007 version of Death at a Funeral, I'll keep an open mind. Still…Martin Lawrence…ugggh. Check out the trailer below and give us your thoughts. Yay or nay?