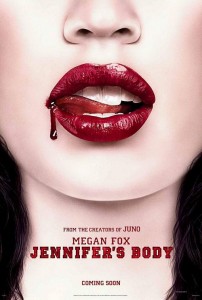 I loved the movie "Juno." In fact, I adored it. I wanted to hug it and snuggle with it. Jason Bateman was his usually snarky self, Ellen Page was loveable and snappy, Michael Cera was, um, Michael Cera, and the supporting cast, from Jennifer Garner to Allison Janney to J.K. Simmons and Olivia Thirlby added nothing but oodles of fantastic to this Jason Reitman ("Thank You for Smoking") film. But despite all that, the movie only succeeds because of the brilliance that is Diablo Cody. I know some people are tired of her shtick, but after seeing the trailer for "Jennifer's Body," I have to say I'm impressed.
Check out the red band clip below and let me know what you think – will this be a winner and will Cody continue her prowess and screenwriting win streak, or will this expose her as a one-trick pony whose sarcasm and whit is old and overblown? I'm betting on pure win from the critics and some modest box office success. We'll all know for sure on September 19th, when the film is released.
And one more thing – if Megan Fox wants to lose her snooty "Transformers" nothing-but-a-cute-face (and butt) reputation, this is the type of stuff she needs to do. Expand, Megan. Expand.