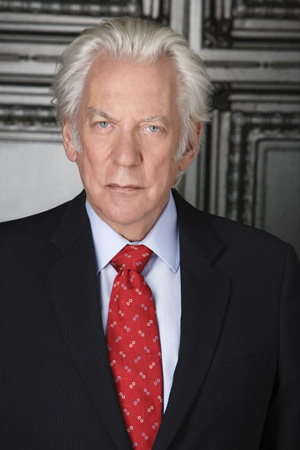 The wait is finally over… and Donald Sutherland will play President Snow in next years film The Hunger Games. Snow is the evil autocratic ruler over the Twelve Districts of Panem, and uses violence to control and intimidate any who oppose his leadership. Snow was the last lead character to be cast, and one reason the casting group may have taken longer to cast Snow is because he simply doesn't have a large role in the first book of the series. While I assume that in the film Snow will have a much stronger presence than he did in the book, he doesn't become a constant presence until the second book, Catching Fire.
Onto the idea of Sutherland playing Snow… I have a hard time finding anything to complain about. So far I have been thrilled about the casting decisions. Although I am not old enough to appreciate all of Sutherlands work, I have a hard time picturing him as a menacing, black-hearted, eye-bleeding scoundrel. My brain immediately jumped from his portrayal of a loving fatherly figure to Mark Wahlberg in The Italian Job, to the oddball tank leader in the WWII comedy Kelly's Heroes.
My first choice to play Snow would have been Terrence Stamp, who recently played Thompson, the evil fate controlling goon in The Adjustment Bureau.  In my mind Stamp comes across as a more menacing figure than Sutherland. That being said, Sutherland is a great actor, and I believe he will be great as President Snow.
What do you think of Sutherland taking on the role of President Snow… and do you think Snow should/will play a bigger role in the film than he did in The Hunger Games?
UPDATE::: Collider.com is reporting that the Hunger Games series will be split into four films. It would seem that blockbusters such as Harry Potter and The Hobbit (yes I purposely left out the Twilight sequel Breaking Dawn) are rubbing off on other production companies.