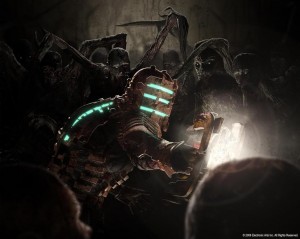 Since we're on the topic of game-based movie adaptations (Halo!), EA's enjoyable and visually excellent Dead Space is warming up for a film treatment itself. Of course, this will be more of a remake, since Dead Space owes almost all of its story/mood to Event Horizon, replacing Satan and his minions with The Thing's mutating body horror and Alien's blue collar space gloom.
Eagle Eye/Disturbia's D.J. Caruso is attached to direct, which bodes well. The guy's capable and stylish and– until the end of Eagle Eye reveals a movie-busting twist which retroactively demolishes the probability of every circumstance that's lead up to it– directed a pretty exciting thriller. Bear in mind this news doesn't mean Dead Space is a go or even close to being greenlit– the script still has to be developed and shopped to studios. But it seems a pretty easy sell if EA gets their space engineers in a row.
And as I thoroughly enjoyed the game and am always game for variant sci-fi of all stripes, I'm all for it.