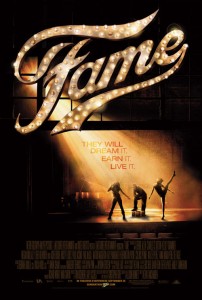 Somewhere between the Oscar-winning geneses of 1980's Fame and its 2009 remake, technology changed fame's definition. Once the reward for hard work and craft refinement, fame has become the reward for cheaply hawking the three B's (belly, breasts and butt). Where fame and the title of "celebrity" (IE- an individual worthy of celebration) were once purchased in the currency of dedicated sweat, it's now easily traded via the narcissistically shallow efforts to amass a legion of social network followers with an end-goal of headlining a self-titled reality show or an US magazine tell-all.
Talent? Who needs it. We've got celebrities with both vaginas and temperamental drug addictions.
To its credit, 2009's Fame is intent on pressing the "reset" button. Fame wants to remind its audience that focused devotion to perfecting a talent is the real catalyst to achieving a fame that endures beyond 15 minutes. True fame is earned, not stumbled into.
Fame introduces an overflowing classroom full of promising young students as they audition for–and subsequently attend–four years of learning at a New York High School for the Performing Arts (based on New York's real-life Fiorello H. LaGuardia High School of Music & Art and Performing Arts). There's the dancer(s), the director, the pianist, the actor(s) and the singer(s), all  nurtured by a stalwart but criminally underused cast of more interesting adult teachers as played by you-know-'em-from-TV's Kelsey Grammar (Frasier), Charles C. Dutton (Roc), Megan Mullally* (Will & Grace) and Bebe Neuwirth (Cheers). The students, played by young up and comers who mirror their on-screen characters –and honestly, there are too many to name– are all busting tail to achieve their respective dreams.
Refreshingly light on what could have been easy sources of blueprint conflict usually played out in teen-centered films, Fame chooses to focus more on the internal pressures of its students. There are no rivalries, unwanted pregnancies, deaths or "coming out" theatrics.  Instead, Fame attempts to urge a new generation back to the previously mentioned basics, with less emphasis on old and new definitions of fame and more focus on finding contentment and recognition wherever your hard-fought road leads you. To its credit, Fame's mild-mannered message and goal is a noble one– it's just not enough.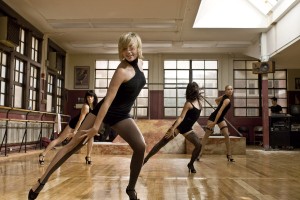 For a film about something as dynamic and entertaining as the art of entertaining, Fame is surprisingly dull. First-time director and 24-year old choreography prodigy Kevin Tancharoen certainly knows the details of the performing arts and lays them out with onscreen tactility. He knows the musty smell of old classrooms, chalk and auditoriums. He knows the silly tension of a drama class "barrier-breaking" exercise– he just doesn't know how to make them energetic. Ditto for most of the performance numbers. Excluding a slinky dance sequence set to Sam Sparro's Black and Gold (infused with life more from the song itself than its quick-edit dance number), Tancharoen never injects vibrancy and life into what should be crackling showcases for new talent.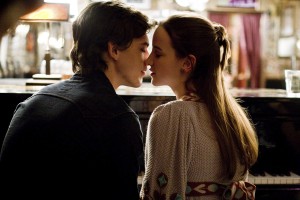 To its ultimate failing, Fame is impaired by its intention to cram 4+ years into one hundred minutes. Fame simply tries to stuff too much time and too many characters into what would have been better served as a character-driven TV series like Friday Night Lights. As a result, individual stories and character triumphs/tragedies aren't given time to saturate. Instead, they're rushed through staccato beats of clichéd, dramatic base-touching with a few song and dance numbers thrown in for good measure. With no less than seven invested character stories vying for screen time, many of them receive a perfunctory sendoff after perfunctory treatment; some you wonder how they even got past auditions and many more are simply left hanging without resolution.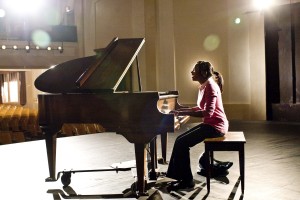 In a scene that touches on the 50-something realization of youth's twilight, there's an achingly real moment where Mullaly's character reflects on what could have been after she failed to grasp her dreams of wide-eyed youth, instead wearing down and accepting a less glamorous reality. On opening, Fame will share the same regret– it's got a bigger, deeper story to tell, it's just that holding it all to 100 minutes wore it down to something less glamorous.
As my lady-friend aptly mentioned as we walked out of the screening, "It wasn't bad– I just wanted more."