First Look at Michael Myers from Rob Zombie's H2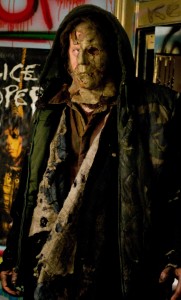 Okay, hold your collective breaths because I know you've been waiting all week for this gem. Yes, below is the first "authorized" picture of Michael Myers from Rob Zombie's "H2," due in theaters in late August. Color me unimpressed and color me still not pining to see this remake. I still believe this is the kind of movie I would watch if I found myself the last person alive on Earth and it was the only thing playing – remarkably – at the cinema, which despite Armageddon killing everybody else, left a theater in working order. Am I making my point?
Click on the image for the full-sized version.