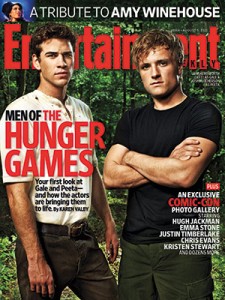 A few months back our pals at Entertainment Weekly got us juiced and jazzed with our first images of Jennifer Lawrence (X-Men: First Class) as Katniss Everdeen, the badass heroine of director Gary Ross' (Seabiscuit) movie version of the bestselling novel, The Hunger Games – the first movie in a planned quadrilogy. Now EW gives us our first official glimpse at the two men in Katniss' life – lifelong best buddy, Gale Hawthorne (Liam Hemsworth), and the baker's son and fellow District 12 tribute, Peeta Mellark (Josh Hutcherson).
I don't know about you, but seeing these two in full Panem regalia makes me again tip my hat to the powers-that-be in the casting department. Now all we need is a full-blown teaser trailer for The Hunger Games and we'll be set. You want my guess? Considering filming for The Hunger Games is halfway completed, and considering much of the Twilight crowd has crossed over into The Hunger Games territory, I'd bet we'd see a teaser trailer with the release of Taylor Lautner's (Jacob in the Twilight movies) new flick, Abduction, hitting cinemas on September 23, 2011.
Take a peek at the picture above. What say ye? Yay or nay?