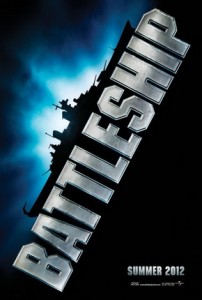 It was only a matter of time before Hollywood stopped raping remaking films from the 80s and moved on to greener, more creative pastures – like board games. I guess technically Battleship isn't a board game, but you get my drift. When Peter Berg, whom I typically hold in high esteem as a director (The Kingdom, Hancock), announced he'd be bringing "you sunk my" Battleship to the big screen, I was dumbfounded and horrified. Now, after watching the teaser trailer, I can say without a shade of doubt, this movie looks 100 percent awful. But should I be surprised? When your cast consists of Liam Neeson (win), Taylor Kitsch (meh), Alexander Skarsgård (meh), Brooklyn Decker (win for her boobs, meh for her acting) and Rhianna (gag), I'd say you're not off to a promising start.
Bottom line? You want to tantalize me, Peter Berg? Give me more action and stuff blowing up and less of the human element. Save that for later trailers and for the film itself, then you might surprise me. As it stands now, this looks like a remake of Top Gun, except dumber. All hands on deck, as I give a big, fat hearty BOO to this 2012 release.
Check out the trailer for Battleship below and try not to punch your own face out of anger afterwards.