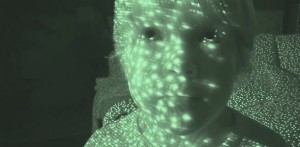 We are a few days away from the start of the wonderful month of October and that means Paranormal Activity 4, the newest installment in the popular (and creepy as hell) Paranormal Activity franchise, is only a few weeks away! That's right, on October 19th, Toby is back and ready to haunt a new cubbyhole, and based on the newest trailer below, directors Ariel Schulman and Henry Joost (the duo behind Paranormal Activity 3 and Catfish), have ratcheted the scares to new heights. I'm pretty sure I won't be turning on my XBOX 360's Kinect anytime in the near future.
While Paranormal Activity 3 was a prequel, showing us how and why the demon Toby came to stalk Katie and Kristi, Paranormal Activity 4 is a sequel to Paranormal Activity 2, beginning five  years after the events of the second movie, wherein Katie (Katie Featherston) killed Kristi and her husband and snatched their toddler, Hunter, and disappeared into the darkness. The story revolves around a teenage girl named Alice (Kathryn Newton) who begins to notice strange happenings after a woman (Katie) and young boy (Hunter, now called Robbie), move into her neighborhood. While the plot details have been kept pretty tight, one thing is certain from the trailer – gone is the fan cam from Paranormal Activity 3 and the laptop chat cam looks to play a prominent role in this surefire butt puckering masterpiece.
Take a peek at the trailer below (I'd do it with the lights on) and let me know your thoughts. Are you excited for PA4? Are you a fan of the three previous films, or is this just not your cup of tea?