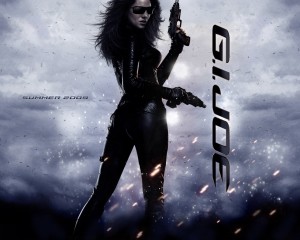 We've chronicled the perceived suck and troubles with "G.I. Joe: The Rise of Cobra" here at AATM.com, and Dan even mentioned awhile back that Snake Eyes and Co. were getting some favorable reviews from audiences who had screened the Stephen Sommers' cinematic Hasbro nerdgasm. I was and am leanging toward this movie reeking of Sommers' stinky CGI and near-vapid plot and character, but from what I hear from the press folks I work with out of Denver, they won't be screening "G.I. Joe" next week. That's usually a sign of little or no faith in the film and the calculated foresight to keep critics and their sharp tongues from tainting the opening weekend box office potential.
There are only three reviews up at RottenTomatoes.com right now for "G.I. Joe," one of which being from Devin Faraci of CHUD.com, a dude who also liked "District 9," a movie I am absolutely dying to see. Faraci gives the movie 8.5 out of 10 and says of  "G.I. Joe: The Rise of Cobra:"
"If I was 10 years old, GI Joe would be one of the best movies I had ever seen. As a grown up it's one of the better summer movies; a delightfully light, fun and action-packed kick in the ass."
So, maybe like Dan said, it's time to readjust our "G.I. Joe" expectations. Either way, we won't have any pre-release feedback for you and will keep you posted if other press folks are reporting a screening blackout, as well.