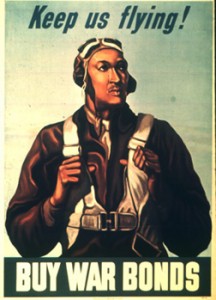 11 years ago, Saving Private Ryan singlehandedly reignited interest in all things WW II and set the History Channel up with a sweet gig of nonstop WWII programming. The predictable Hollywood WW II glut ensued and things cooled off a bit– especially after middling returns on Clint Eastwood's Flags of  our Fathers duology. In the mean time, Red Tails*, a George Lucas-produced project based on the overshadowed story of the Tuskegee Airmen, the only group of African-American pilots who flew combat missions in a segregated US Army Air Corp in WW II, circled lazily over the landing field of development hell.
While George Lucas (and you thought he only cared about Star Wars… you might still be right) had been talking about Red Tails since before everyone came to grips the prequels and their stink-itude, things have only recently finally started coming together. Like news from today, for example: Variety is reporting Red Tails just added the dependable Terrence Howard (recently booted from Iron Man 2) and expendable Cuba Gooding Jr. (recently booted from anything but underwear commercials).
Hallelujah. The air war in World War II has been vastly underrepresented. It's been far too long since anything depicting the WW II air war came along (1990's Memphis Belle) and to have one that also tells the story of the Tuskegee Airmen and their P-51 Red Tails  is even better. Red Tails, is being directed by TV veteran Anthony Hemmingway (The Wire, Battlestar Galactica, Heroes) and is slated for release later this year.
* The Allied Nickname "Red Tails" came from the paint scheme used to denote the squadron, not from your high school attempts to date a redhead.