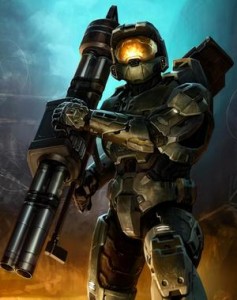 So I watched the trailer for Bungie and Microsoft Game Studios' new first-person shooter, Halo: Reach, during the Spike Video Game Awards last Saturday. All I have to say is one word: Meh. Color me not impressed. All I saw was the same old same old. Was I supposed to have jizzed in my pants because a Spartan has a skull painted on the visor of his helmet? Honestly, unless there is a multitude of surprises – both in story and gameplay – I can say Halo: Reach will get about a week of my attention, just like Halo 3: ODST did. That was $60 I wish I'd never spent.
Frankly, I'm a little put-off by Bungie's yawning and boredom with the Halo franchise. Same with Microsoft. They see a giant cash cow that squirts golden milk from its tired teats with little or no effort on the part of either company. They know, just like Star Wars, that if they stamp the name Halo to camouflaged turd the fanboys will sprint to their local Game Stop and throwdown $60, gobble it up and defend it to the death. Microsoft and Bungie essentially have taken a once promising franchise and pissed away its potential.
Which brings my tirade full circle and to a point I never hoped to make: Any hope of a Halo movie is unequivocally dead. It will never happen. Ever. And I'll tell you the only reason why: Timeliness.
Yep, with the advent of Gears of War and the Call of Duty: Modern Warfare games, I'd say people are starting to forget Halo. It's fading, and as I said before, I'm not sure Halo: Reach can bring it back.
I'd say universal love for all things Halo peaked somewhere between 2006-2008, at the end of Halo 2's run and about a year into Halo 3's release. Sure, people still hop on XBOX Live to play, but the experience has changed. It's boring and any semblance of teamwork is replaced with first-class douchebags of all ages trolling the gametypes looking for the twisted adrenaline rush that comes from being a jackass.
Before Halo 3's release, when it was announced Peter Jackson would produce and Neill Blomkamp would direct a Halo movie, it seemed like everything was peaking. You'd have to search far and wide to find someone who doesn't love Peter Jackson's Lord of the Rings trilogy, and Halo fans automatically had visions of grandeur for what Jackson and Blomkamp could bring to the big screen. Blomkamp's series of Halo shorts even quieted some of his "he's never directed a movie before" detractors for a time. I would say District 9 has officially closed the argument of his ability, but then as Jackson has said repeatedly over the last six months, the Halo project is dead.
And here's the kicker. It's going to stay dead. Steven Spielberg isn't going to gobble it up and Jackson is going to resurrect his plans to produce it. Microsoft's greediness destroyed any chance and now the issue of timeliness will keep it in the grave. When it comes down to it a movie version of Halo simply won't make the impact today as it would have in 2008 or 2009. And with what the movie would cost, that seals the deal. So long, Halo.
Check out the Halo: Reach trailer below. If you have thoughts, please, do share.