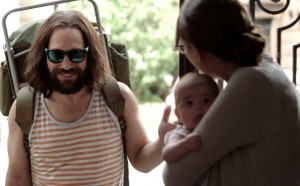 How can anyone not absolutely not love Paul Rudd? Has he ever made a bad movie? Other than Dinner for Schmucks, probably not. He was fantastic in Anchorman: The Legend of Ron Burgandy, The 40 Year-Old Virgin, Knocked Up, I Love You, Man, and I even enjoyed him in The Oh in Ohio. And let's not even get started on his cameos. Bottom line: Paul Rudd is gold and is only going to get better.
His next movie is Our Idiot Brother – which comes to theaters on August 26, 2011 – and also features the thespian talents of Elizabeth Banks (The Next Three Days), Zooey Deschanel (Your Highness) and Emily Mortimer (Shutter Island). The movie was written by Evgenia Peretz and directed by her brother, Jesse Peretz, who directed the 2007 movie, The Ex. It premired at the 2011 Sundance Film Festival. The trailer points out the movie is from the folks that brought you Little Miss Sunshine and the look and feel of Our Idiot Brother seems to be of the same vibe – dark, honest and, hopefully, full of heart. How a movie about a brother who irritates the hell out of his sisters (and who wears some rockin' Crocs) could be anything but, is beyond me.
Take a peek at the trailer below and let us know your thoughts.