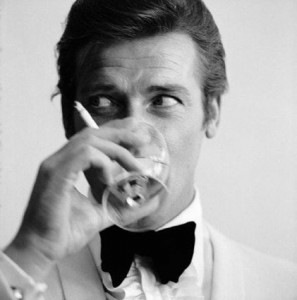 Yes, the best James Bond ever is 82 today and in his honor, I'm posting Duran Duran's video for A View to a Kill below.  23 years later and that song is still catchy. Which is good, because the video might possibly make you put a plastic bag over your own head and suffocate yourself.
I have fond memories of ol' Roger Moore suiting up as James Bond. Some might feel a fondness toward Sean Connery's Bond, and others might like Pierce Brosnan, Timothy Dalton (the worst ever) or Daniel Craig, and by all accounts, each (except for Dalton) wore the white tux and Walther PPK admirably. But Roger Moore was my James Bond while growing up and part of my first introduction to the world of Bond with For Your Eyes Only, Octopussy and A View to a Kill. But he also played Bond in Live and Let Die, The Man with the Golden Gun, The Spy Who Loved Me and Moonraker. Call me crazy, but that resume seems to tie Sean Connery for most Bond films, so why Connery is always crowned as the greatest Bond is beyond me. I'm guessing it's just trendy and edgy, like people who claim to enjoy The Beatles and/or The Rolling Stones, or who enjoy wearing berets.
If you want to see a really great Roger Moore movie, check out North Sea Hijack. It also stars James Mason and Anthony Perkins and is quite the tense, James Bond-like thriller. And don't forget to celebrate Roger's birthday by watching some Duran Duran below. Now, pass the cupcakes.