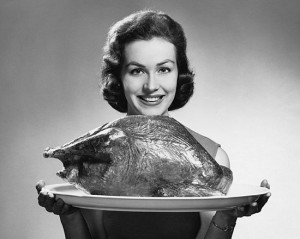 Happy Thanksgiving to all the readers of AATM.com! Here are a few things I'm thankful for by way of entertainment this holiday season. How about you? What has the movies, TV, books or video games given you that makes you feel thankful in 2009?
Blu-ray
You know Blu-ray is dreamy and awe-inspiring when everything, including movies without special effects and explosions, look absolutely magnificent in the crisp, clear, vibrant goodness that is 1080p. I was reminded of this when I watched Star Trek earlier in the week, and also when I watched The Proposal. In truth, if I wasn't a film critic, I'd probably stay planted on my couch and watch everything in the solace of my home theater.
The Hurt Locker
I loved every minute of this movie from Point Break director Kathryn Bigelow and will be absolutely shocked if the movie, depicting the ins and outs of an elite Army bomb squad in Iraq, isn't nominated for best picture at the forthcoming 82nd Academy Awards this February.
Inglourious Basterds
Simply put, Inglourious Basterds is Quentin Tarantino's ultimate triumph as a director. Basterds is full of memorable scenes and characters and the story is told and filmed in that unique blend of art-house and pop-cinema style that makes Tarantino a visionary filmmaker. There is no way this movie doesn't get nominated for best picture and best director at the 2010 Academy Awards.
The Hangover
I was hoping Funny People would be the best comedy of the summer because I have a man-crush on Judd Apatow. But Funny People took itself too seriously and put me to sleep in an angry stupor. Fortunately a tiny Asian man popping out of a trunk and teabagging Bradley Cooper (He's Just Not That Into You) made up for any disappointment I may have felt.
Fired Up!
Total guilty pleasure movie and is littered with some of the funniest, most quotable lines since American Pie, such as: "Bottomless breadsticks only keep you at the Olive Garden for so long, until at some point you look up and say 'Why the hell am I at the Olive Garden with all these fat people?'"
The Strain
From director Guillermo del Toro (Pan's Labyrinth) and author Chuck Hogan, this CSI-meets-The Wire-meets-Dracula tale of vampire viruses and conspiracies was a page-turner of the highest order and left my derriere tighter than Fort Knox.
Call of Duty: Modern Warfare 2
Some might say (SPOILER!!!), after watching America get invaded and nuked by our old Russian buddies, that Infinity Ward doesn't like the United States very much, but I don't frickin' care. Playing Modern Warfare 2 on the XBOX 360 is like being inserted into your own action movie, complete with Hans Zimmer soundtrack. I can't stop playing this and something tells me many copies of Halo 3: ODST have now been put into hibernation.
Batman Arkham Asylum
Last year's surprise game for me was Dead Space; this year it's Batman Arkham Asylum. How can one not love finding clues, using all of Batman's sweet gadgets and punching the ever-lovin' crap out of the Joker's henchmen? Very few games are worth 60 dollars, but this is one were $60 feels like a bargin.
Big Love
I had HBO for four months last year (free from DISH Network as an apology for jacking up my account) and I got sucked into the drama, including the controversial episode that featured parts of an LDS (Mormon) temple endowment. Regardless of what you believe and what liberties the show might take, Big Love is an engrossing and addicting program. Almost made me subscribe to HBO. Almost.
Diners, Drive-Ins and Dives
I don't watch much TV, but when I do it's either the Utah Jazz or one of the various programs on the Travel Channel or The Food Network, with my favorite being Diners, Drive-Ins and Dives. I don't know how host Guy Fieri got his job, but if he needs a sidekick, I'm the man.