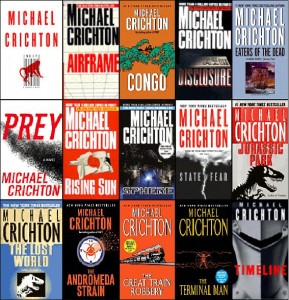 I read Michael Crichton's "Jurassic Park" in 1992 and was absolutely mesmerized by the novel. I couldn't get enough Crichton after finishing my first techno-thriller. Since then I've enjoyed almost every one of Crichton's novels ("Next" and "Congo" are my least favorite) and was terribly sad to learn of his death from cancer last year. I'd love to keep reading his works. And I got a little giddy today when I saw this headline in Variety:
Michael Crichton Legacy Lives On: HarperCollins Readies Two New Novels
Sadly, after reading the news, I'm split. Sounds like one novel was completed by Crichton – something called "Pirate Latitudes" (due this November) and the other will be completed via another author piecing together Crichton's notes. I'm okay with the story of pirates, set in 1665 Jamaica, hitting bookshelves, but I'm a little snooty at the latter effort. That seems like grave robbing to me. And considering how particular and thorough Crichton was with his work and research, I can't believe that he's not spinning in his grave at the thought of another's hands messing with his craft.
Thoughts? Am I smoking crack?