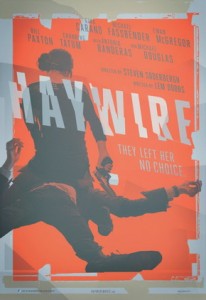 January in Utah is expressed best with two small words: pure crap. This hellish winter month is adorned with sub-zero temperatures, freak snowstorms that turn Utah drivers into Idaho drivers, and enough inversion and putrid air to give anyone stepping outside the black lung.
Yeah. That's right. I hate January in Utah.
Thanks to Steven Soderbergh (Erin Brockovich, Traffic), this January might be a titch better. Not only is Mr. Soderbergh directing the butt cheek-clinching thriller, Contagion – due in theaters on September 9, 2011, but he's also giving us an action film, Haywire, that hits theaters on January 20, 2012.
At first glance, Haywire seems like a chick version of The Bourne Identity, except with a better director and a cast that makes my jaw drop. I mean truly, how can a movie about a betrayed covert operative – played by the jaw-dropping MMA fighter and acting newbie, Gina Carano (check out these ABS) – that stars Antonio Banderas, Michael Douglas, Bill Paxton, Ewan McGregor, Michael Fassbender and Channing Tatum be anything short of stellar? I'll be honest…the January release date has me a little nervous, but based on the trailer, this movie looks like a surefire winner.
Check out the trailer below and let me know what you think? Interested or is this just another January write off?