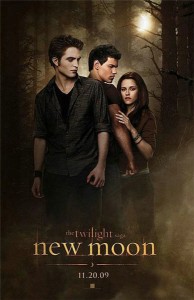 So apparently, there's this obscure movie opening on Friday. Something about a Moon and a closeted vampire, a weightlifting werewolf and a mopey girl? OK.  Fine. You know it, we know it, and unless you're pop-culture idiot, you know it. Twilight: New Moon is here. Never the kind to shy away from hit-whoring (we're still up and coming after all– tell a friend!), we've got something to say about it.
As a dude, the whole Twilight phenomenon has passed me by. I'd imagine that's kind of due to a lack of inboard/outboard baby hosting utilities–  the goods with which most of the Twilight fan contingent come naturally equipped. In fact, I hadn't even heard of brooding teenage vampire love until it exploded out of the closet this last summer via the latest entry Breaking Dawn– despite the series having been fawned over–while naturally sulking and listening to Muse with shades drawn– since 2005.
Now, with Twilight's unexpected and rabid popularity having reached a High School Musical pitch and the first movie installment perfectly capitalizing on it with an expectation slapping $70 million opening weekend and its sequel, New Moon hoping to one-up, there's been an undercurrent of outcry amongst the male geek contingent. "Twilight's diluting our genre! They're killing our vampires!"
Uh… no.
Sure, Twilight's an easy mark. If anything's asking for cold-cocked sucker punches from the periphery, it's a melodramatic phenomenon based on pretty boy werewolves and vampires swooned over by ladies aged 12-65. Still, Stephanie Meyer has done no more damage to love/lack of vampire enthusiasm than what a visually arresting but horribly embarrassing 30 Days of Night did while trying to bring the vampire "primal monster" angle back and is no less diluting than George Lucas' excision of "sci" from "fi" for his Star Wars movies and most mainstream "sci-fi" comers thereafter. There's a heaping ton of immanently mockable fodder when it comes to the Twilight fan base and the Harlequin meets Anne Rice prose that fuels the series' frantic page turning… but then again, most bastions of male geekdom has the same: Star Trek? Star Wars? Elvish speaking fans of Tolkien? Just Google "ComicCon" to see how ridiculous male geek fanaticism can get.
So all this ire begs the question: When did the genre club become boys only? You'd think all the fellas and their Princess Leia/ comic book cosplay fetishism would welcome so many women taking an interest in something fantastical while dipping their toes into the shallow end of the geek pool. In fact, I'm not sure why geeks wouldn't gladly take all genre newcomers– especially girls.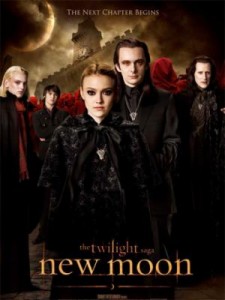 And while geekdom's Y chromosome gaurdians may pile on the rhetorical shame over their swooning for some pale and pouty guy named Edward (as they should likewise be shamed over their far less discerning swoons at any genre girl baring belly or boob), there's also going to be others who use Twilight as a gateway for wading deeper into the genre pool, maybe even discovering the admired Let the Right One In or the fantastical works of Guillermo Del Toro. I just don't see how that's a bad thing, nor do I see how mocking these "fat, pubescent and lonely girls" delineates any self respecting geek from their own sticky label as fat, post pubescent and lonely man-children.
In the end, excited females, long lines and giddy anticipation of Twilight are no less authentic than the same fervor previously heaped upon Star Wars or Lord of the Rings, not to mention the clingy devotion to genre pieces like Planet of the Apes or, again, decades of Star Trek. The only difference is these women spend less money on collecting related toys and more on inexplicably looking good/dressing well for the guys who do.
Like or loathe the Twilight series, its fans deserve some leeway. After all, they're simply the other side of that geek coin.