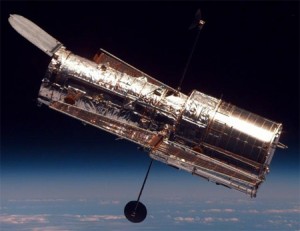 This March, to coincide with the 20th anniversary of the Hubble Space Telescope, IMAX and IMAX 3D theaters will present Hubble 3D to audiences in select IMAX cities. The movie chronicles last May's Space Shuttle mission to repair and service the telescope, and also presents "breathtaking" imagery of distant stars, solar systems and all kinds of interstellar shenanigans. The film's director, Toni Meyers, said this:
"We have waited a long time to get the IMAX camera back into space and finally the opportunity came with the amazing final repair mission of the Hubble Space Telescope. In Hubble 3D, audiences will be able to float in space alongside the astronauts as they perform the repairs and upgrades to the telescope, and then fly to the edge of the universe, through its first new images. Hubble's incredible legacy changes the way we see and think about the universe, and it is an honor to give people a chance to experience its breath-taking images in IMAX 3D."
Here's what I say: 3D is stupid and gimmicky and I hate it. Furthermore, programs about wildlife, the universe or the earth usually bore me to tears. Sure it's interesting, but it's just not something I want to pay $8 to see at the cinemas (probably more for IMAX, of course). That kind of stuff is meant for viewing on lazy Sunday afternoons when I'm lounging in my pajamas and haven't showered.
On the other hand, watching The Dark Knight on and IMAX screen was nothing short of awesome, so maybe I can get past the profoundly dumb 3D and actually find myself enthralled with Hubble 3D. What about you? Would you pay money to watch this movie on an IMAX screen?
Oh, and if you're interested, the first images from the repaired and rejuvenated Hubble are due to hit Nasa.gov on September 9, 2009.