Amy Adams' (Julie & Julia) new movie, Leap Year, wasn't even on my radar until I caught the preview while watching Nothing But Trailers on HDNet while I was languishing at home with some sort of Satanic flu-cold-sinus disease that thoroughly jacked up my post-holiday vacation. Honestly, even after watching the trailer it still wasn't on my movies-to-see list and I figured it was coming out in February. It looked like that kind of movie. I don't remember much after that, because I changed the channel to Diners, Drive-Ins and Dives and fell asleep with the aid of Nyquil and Guy Fieri's absurdly bleached hairdo.
This won't come as a surprise, but I had to psyche myself up to see Leap Year. It wasn't quite akin to the mental preparation before de-worming cattle or a root canal, but sitting at home in my comfy pants drooling in front of the TV seemed like a better alternative. Imagine my surprise when, despite a huge serving of cheese and predictability, I actually didn't hate Leap Year. I think most critics, the ones that write reviews to appease the pretend interest of their other critic brethren, will crap on the movie and that's too bad. It's charming and sweet and something parents – particularly moms – can feel safe taking their daughters to watch without feeling red-faced. Take that Twilight!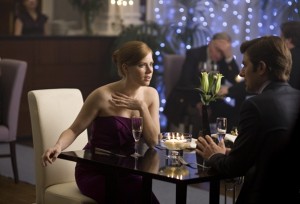 Leap Year begins in Boston, where we meet Anna (Amy Adams) and Jeremy (Adam Scott), young, clean-cut and completely integrated into their careers. Jeremy is a cardiologist and Anna is a decorator and they seem to be in love. In fact, while she won't admit it, Anna quietly wonders when Jeremy will pop the big question, a fact emphasized when Anna's older sister, Libby (Kaitlin Olson), happily tells her she saw Jeremy in a fancy jewelry store. And why would any man go into that exact store unless he was going to buy a ring, right? This is when the first whiff of predictability slithers into the movie. We know Jeremy didn't buy a ring and we know, even now, that Anna will never marry him. He's too nerdy, coifed and uninteresting to possibly co-exist with a charmer like Amy Adams. When he gives her earrings before his trip to Ireland, we saw it coming a mile away.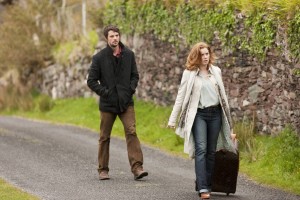 Downhearted, Anna decides to surprise Jeremy in Ireland by meeting him on Leap Day, February 29, and proposing to him. This is Irish tradition apparently and if you're a dude in Ireland and you get proposed to on this day, you must accept. Kind of dicey if you ask me, for obvious reasons. Nonetheless, Anna crosses the pond and finds herself in the travel version of the 13th Circle of Hell. Because of turbulence, her plane is forced to land in Wales, and after landing her only option for getting to Ireland involves a rickety fishing boat. Still, Anna is bound and determined to propose to Jeremy, so after crossing stormy seas she winds up in a quaint little place called the Dingle Peninsula. This is where she meets Declan (Matthew Goode), the owner of the local pub/restaurant/inn. Immediately they dislike each other. She thinks he's a crass, bad-mannered pig, and he thinks she's a stuck-up American princess. Chalk up another point to predictability! These two are bound to fall in love!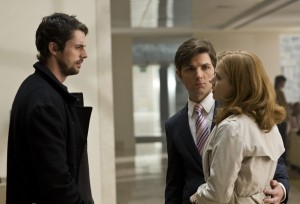 Still, amazingly, with all of Leap Year's story pretty much understood in the first 20 minutes, it doesn't come across to me as lame. The story, while recycled, focuses on the idea of choices and, as the film's tagline implores, wants us to "choose love." That's the enigma, the food-for-thought, the filmmakers lay in the laps of the audience: Do you run away with the cardiologist that screams safe and predictable, or do you follow your heart and, well, choose love. The movie circles its wagons around that truth and also enjoys poking fun at the in-crowd's romance with technology, particularly cell phones, hi-def TVs and Facebook.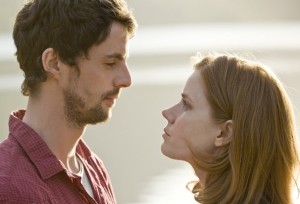 With the exception of some corny romantic shots in the last third of the movie, Leap Year's cinematography is absolutely stunning and the feature was actually shot on location in Ireland. Director Anand Tucker instills a quaint, easygoing spirit into the movie. But more than anything, Amy Adams is solid, as usual, and still is, in my opinion, the most loveable actress in Hollywood. She is to 2010 what Meg Ryan was to 1988. As for her co-star, Matthew Goode (Watchmen), he holds his own and plays the sarcastic, brooding, heartbroken hunk with ease. Their chemistry is palpable and a big reason the movie succeeds.
In the end, I can't quite tell you to run out and pay full-price for Leap Year, but if you're willing to risk a few bucks, I think you'll come away happy with your choice. If you're not, wait for the DVD and you'll be equally as pleased.