Ian McShane to Play Blackbeard in Pirates 4?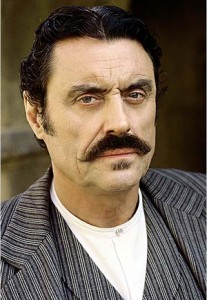 I just finished reading Michael Crichton's Pirate Latitudes, so despite Pirates of the Caribbean: At World's End sucking three levels of Davy Jone's squidbeard, I'm a little jazzed for a new pirates movie. Now the only question is will it be Pirates of the Caribbean: On Stranger Tides, due to hit theaters in May 2011, or the aforementioned Pirate Latitudes, coming to cinemas via Steven Spielberg and David Koepp, that I see first. I'm guessing it will be On Stranger Tides.
I should feel leery, given the crapfest that was the third Pirates movie, but I'm encouraged by the cast: Johnny Depp returns as Jack Sparrow, as does Geoffrey Rush as Barbosa, and Penelope Cruz and Ian McShane are in negotiations to play adversaries to Captain Sparrow, with McShane playing the famous pirate, Blackbeard. I wonder if he'll juice himself up for the roll by sniffing on some of Blackbeard's Delight. It's a formidable scent!