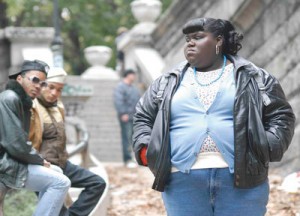 Back on October 13th, I introduced AATM.com readers to a trailer for the film festival darling, Precious. And when I say darling, I don't mean light and fluffy, like last year's Slumdog Millionaire. Precious is a gritty look at life in the slums via an overweight, abused, pregnant (for the second time) teenager. It's bleak, harsh and unrelenting and rightly so. Topics raised in this movie aren't specific to color, sex or gender. And the movie and performances from Mariah Carey, Mo'Nique, Paula Patton, Lenny Kravitz and newcomer Gabby Sidibe are getting awards from the Sundance and Toronto Film Festivals, as well as high praise from critics.
The man behind the movie is Lee Daniels and he is extraordinarily profiled in The New York Times Magazine by Lynn Hirschberg. Daniels previously produced Monster's Ball and The Woodsman, and was the director behind Shadowboxer, a Tarantino-esque movie about a hitwoman and her romance with her stepson, starring Cuba Gooding Jr. (American Gangster) and Helen Mirren (The Queen). After reading the profile, I have to tip my hat to Daniels. He is one determined man and has overcome quite a bit of adversity in his life. I also like the compassion and open-mindedness in which he sees the world. From the article:
…[a} journalist asked him if he was trying to cast an overly harsh light on inner-city life. "I always look for that gray area," Daniels said, sounding like his old dreadlocked self. "Even the most evil person was somebody's baby at one time. And that's where life is lived. I've never been that comfortable with black and white."
You can read the full article here, which I highly recommend. Precious hits the Broadway Centre Theatres in Salt Lake City on November 13.