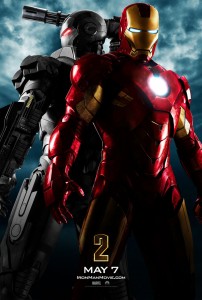 You won't be able to see the first trailer for Iron Man 2 until Sherlock Holmes is released on December 25, but you can check out this sleek teaser poster, featuring the ever-anticipated War Machine. It's hard to imagine that Iron Man 2 will suck, and I've already added this to my must-see films of 2010. The first movie was a pleasant surprise and I can never get enough Robert Downey Jr. The guy is a top-notch talent and it's great to see him overcome his drug abuse.
While the storyline to the sequel has been kept under wraps, we do know, based on cast interviews, the story is set six months after the Iron Man ended and conflict between Iron Man and War Machine will be a central theme of the movie. Tony Stark's slide into alcoholism is apparently another theme explored by director Jon Favreau, but according to interviews with Favreau and Downey Jr., the movie won't follow the Demon in a Bottle storyline from the comic books.
Again, the movie opens on May 7, 2010 in the United States (April 30, 2010 in the UK) and stars Robert Downey Jr., Gwyneth Paltrow, Don Cheadle, Scarlett Johansson, Sam Rockwell, Mickey Rourke and Samuel L. Jackson. That's a beefy cast and should make for a great summer flick.
What's your take? Is Iron Man 2 on your must-see list for 2010, and did you like the first film?