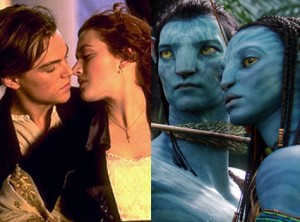 James Cameron must have a direct line to God or something, because the naysayers (including me) guffawed at the ballooned budget of 1997's Titanic and predicted it would bomb at the box office. Instead, as we all know, Titanic became the worldwide and domestic box office champ, a record that's held until today when, ironically, another big budget Cameron epic booted the iceberg-doomed ocean liner from number one to number two. And yes, I will admit, back on December 17, 2010 I didn't think for a moment Avatar would be the highest grossing ever by February 4, 2010, less than two months since its release.
Now the question is what, if anything, can knock Avatar from it's perch and will the Oscar success Avatar could see on March 7, 2010 fuel its earnings even further? Dan thought The Book of Eli might give Avatar some competition a few weeks ago, but Eli got kicked to the curb by the Na'vi by more than $10 million. I don't think From Paris with Love, which Dan will review this Friday, has the chops to take down Avatar, but the Valentine's Day weekend could see Avatar slip in the rankings, as The Wolfman, Percy Jackson & The Olympians: The Lightning Thief and Valentine's Day hit multiplexes and will suck some audience away from the 12-foot smurfs of Pandora.
At any rate, congratulations to James Cameron and his crew. Avatar is a great movie and it will be fun to see how high it will climb the charts. Again, I'm amazed Titanic has been eclipsed. I always thought it would be untouchable, sort of like John Stockton's NBA all-time assists record. I wonder how long it will take for another movie to match Avatar's success. Perhaps the bigger questions is what makes Avatar so special?